In Welsh tradition, a man who is courting a young woman would carve a love spoon for his intended. Intricate symbolic details such as keys (to the heart), wheels (to work hard for his love), and beads (for the number of desired children), would be carefully carved
with the intention of presenting to the one being courted.
On St. Dwynwen's Day, Welsh love spoons are one
of the most traditional and romantic gifts that can be given.
Who is Saint Dwynwen, anyway?
She is the patron saint of lovers...
She was the daughter of Brchan Brycheinog, chieftain of Powys,
who lived in the fifth century.
The beautiful Dwynwen fell in love,
but rejected her love for him as her father did not approve.
There are many variations of her legend.
Dwynwen prayed that she would have no memory of her true love,
an angel provided her with a potion,
which she gives to her true love and turns him to ice.
After seeing what happens to him,
she prays for his release,
and that all lovers be watched over, and that she never fall in love again.
She banishes herself to an island off the west coast of Anglesey forever after.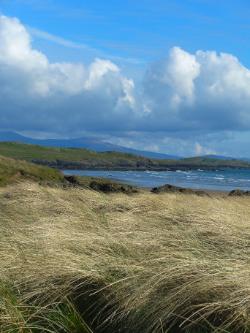 It is well accepted that should one gaze upon the sacred fish within the magical waters
of the well located on the grounds of Eglwys Santes Dwynwen,
lovers' destinies will be foretold.
St. Dwynwen's Day is celebrated on January 25th.
The fair and beautiful Dwynwen found herself cursed, and local people today believe the island to be inhabited by ancient spirits. Many legends have come from Wales,
as have many of our own families that left Wales to come to the new world.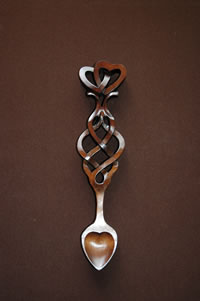 In honor of my ancestors, my Valentine's Day gift this year is a love spoon.